Blog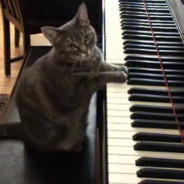 This week I attended the annual Piano Technicians Guild Conference of the south central region.  We met in Kerrville, Texas for three days at the Y O Ranch Resort.  Classes are given by master technicians, technicians with specific knowledge, and people who have created new tools or materials for pianos.  A good time was had by all and everyone left more knowledgeable and with an ambition create finest work possible.  It seemed most of us also couldn't resist buying at least one new tool from one of the specialty tool makers in our...
read more
Often, when a piano is left in an unoccupied home or exiled to the garage, it can become a home for rodents.  Plenty of nooks and cozy alcoves lay within every piano, along with ample nesting supplies.  Rodents chew away at the felt, leather, and wood, rearranging things to suit there tastes.  Then, they began to stockpile pecans, cherrios, or maybe even a head of garlic underneath the keys.  it doesn't take long before piano stops working properly. Rodents waste no time moving out when people return, but, they leave behind plenty of...
read more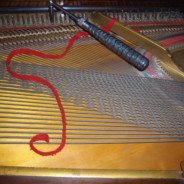 Pictured, is an 1892 square grand piano part way through a tuning. This obsolete design looks like a large coffin on four massive legs. The square grand presents a few challenges for the tuner. First, the tuning pins are located on the far side of the piano, a long reach away from the keys. This requires quite a lot of reaching, leaning, and stretching to tune the upper octaves. I've heard of technicians including the cost of a visit to the chiropractor along with their tuning fee, but long arms and a healthy yoga practice have kept me...
read more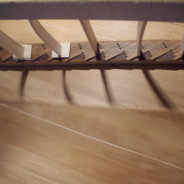 After 102 years of dutiful service, this soundboard could go no further, in any fashion, as part of a musical instrument without thorough restoration. Fluctuation in humidity, causing many cycles of expansion and contraction, had created many long and wide cracks in this soundboard. As well, original glue joints connecting the bridges and ribs to the soundboard had been severely compromised. The sound such a piano would produce is easily imagined; the string's tonal vibrations are only mildly amplified, but, cause much rattling and buzzing...
read more