Tuning a Square Grand Piano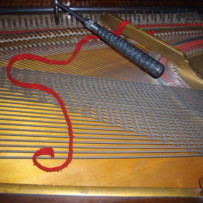 Pictured, is an 1892 square grand piano part way through a tuning. This obsolete design looks like a large coffin on four massive legs. The square grand presents a few challenges for the tuner. First, the tuning pins are located on the far side of the piano, a long reach away from the keys. This requires quite a lot of reaching, leaning, and stretching to tune the upper octaves. I've heard of technicians including the cost of a visit to the chiropractor along with their tuning fee, but long arms and a healthy yoga practice have kept me out of trouble. Second, most square grand pianos must have their dampers removed during tuning. A lot of unwanted noise occurs without the dampers, adding time to the tuning. The piano pictured is a rare exception, it's design allows the piano to be tuned with the dampers in place. A happy surprise. The most notable challenge is making the piano playable before it can be tuned. These beautiful instruments are unfortunately mechanically inferior to most modern pianos. The design makes all adjustments difficult to access and many of the moving parts have little clearance, causing notes to stick. A piano of this age, like most mechanical devices over 100 years old, will require a lot of attention to kept it going.
These are beautiful instruments with a unique and delicate voice. While they have their limitations they can be quite an experience to play. The perfect accompaniment to Caruso.